As a well known event specialist we at Quantum Productions find it very convenient to have a partnership with DanceFloorWraps. DanceFloorWraps.ca can easily interpret the ideas and the design that the clients and customers want to have the most memorable and fantastic event.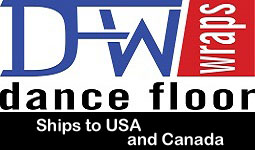 We are very excited for this partnership because next time if our beloved clients have an event that need to organize it will be more relaxing and will not be stressful unlike before. No need to look around and search for each company one by one just to make sure that your event has everything that's needed.
Now clients can just contact one company Quantum Production or DanceFloorWraps: to have that dream event that they want to achieve.
Imagine a memorable event with a total complete package from Sounds, Visuals, Lighting, Production and now: Floor wraps!
We can do everything by just providing us some information, details and ideas that you want. And with our experienced professional designers and staffs everything will be all set in a flash. Rest assured that Quantum Productions has full trust on what DanceFloorWraps can do.
This idea of collaboration would really have a big advantage to all the organizers, coordinators and event planners. It will be easier for them to accept 3 to 5 events at one time and just let them do their part, and then we will just check them and do some final touches. Sounds amazing right?!